Even the name is beautiful – Cushendale. I am of course talking about the woollen mill in the quaint and historical town of Graiguenamanagh in Kilkenny, Ireland.
We have been in Ireland (the Republic and Northern Ireland) for a few weeks now. The main reason for our visit has been to catch up with family but naturally, to visit Ireland also means to become a tourist.
I have always wanted to visit Cushendale Woollen Mills. From the other side of the world I had googled their website and watch clips on YouTube.
The mill, one of Ireland's few remaining woollen mills still in operation today has been a family owned business for generations.
The history of the mill begins in 1204 when Cistercian monks, having discovered the pure water quality of the River Duiske, built a monastery and mills nearby. Their monastery prospered, through the export of wool, to become the largest Irish foundation – Duiske Abbey.
In time, the small town of Graig na Manach – 'the monks' village', grew up around the abbey and the mills.
In the 1600s, the Flemish weaving technology arrived and 200 years later a successor of that technology, Patrick Cushen advertised himself as a woollen manufacturer with a mill in the town, 200 metres from the current site.
The family purchased one of the original abbey mills in 1925 thus gaining access to the pure water needed for the washing and dyeing processes.
It was Philip who named the business Cushendale.
Today, the mill is owned by another Philip Cushen, an absolute gentleman. We did the tour of the mill in operation with Philip explaining the processes. The highlight of the tour was for me watching a spinning mule circa 1900s in action.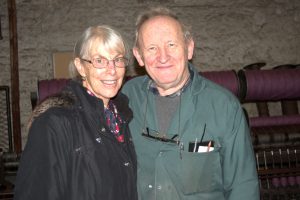 The shop is filled with woollen goodies – blankets, scarves, home interior products and a small selection of wool.
If you are ever in County Kilkenny, please visit – it is well worth it. Then go visit all the historical sites of the village and have coffee and lunch at the Daisy Chain café. Take it from me, their soup is to die for!