The month of April had its fair share of rewards and tribulations.
The beginning of the month saw Peter and myself returning home from a month in Ireland.
Ireland is one of my favourite places to be – not only for its scenery, heritage and people but also because it is the home of Glenn, Vincent and Gabriel, our son and two grandsons.
Spending a month with them is always a joy – but now it seems so long ago.
Coming home however allowed us to enjoy time with Zoe, Sandy, Jackson and Manaia – our daughter, son-in-law and two grandsons. Jackson and Manaia love coming to stay for weekends and we love having them. At ages ten and nearly eight, they have been regular weekend sleepover visitors since they were babies.
It is both a privilege and a blessing to watch these two boys grow from babies to the young men they now are and the bond we have with them is amazingly strong.
On the knitting and design front, April found me almost overwhelmed by it all. A sure indication I am overdoing it.
I tried but failed to get Skyline Rose published. The schematic and chart still remain to be attached to the written pattern. I am confident it will be published on Ravelry in May.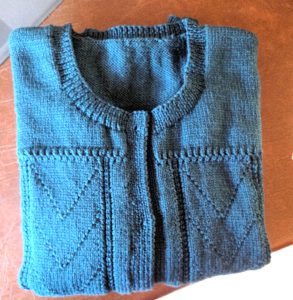 The Irish Green design has been fully sized and the written instructions are almost completed. This too, should be published in May. I love this design with its all-over lace and cable pattern.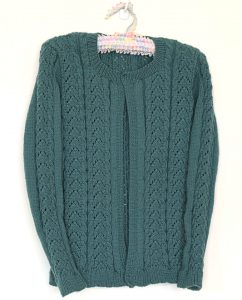 The charcoal design is still on the needles with one sleeve and finishing off to complete. I am hopeful the pattern will be on Ravelry in June. This design is deliberately simple with its emphasis on one cable flanked by moss stitch and stocking stitch.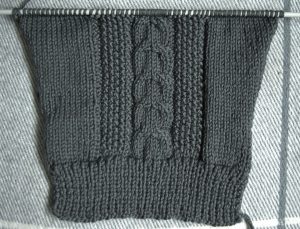 A new lace and cable design has been swatched and I am really happy with the results. However, I am putting this design on the back-burner until I have made progress on the other designs.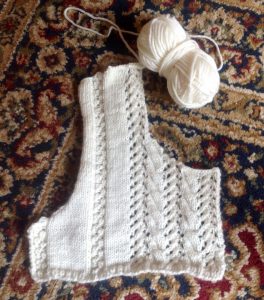 Finally, I have increased my presence on Instagram (mainlycardigans) and Facebook (Mainly Cardigans Design}. Would welcome the chance to chat with you do drop by.
I hope your April was filled with love, laughter and bliss.
Next stop: May.