When I moved to Australia, much of my collection of print knitting patterns did not come with me. They were either consigned to the rubbish tip or given to knitting friends.
One that I have kept is a 1980s Panda collection of four textured patterns. Two of these patterns feature textured knitting. My all-time favourite is this one. It is breathtaking beautiful, and its simplicity is awe-inspiring.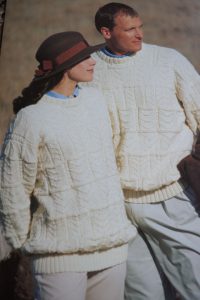 More to the point, it is timeless; it would look good knitted today as it did then.
The Cambridge Dictionary states that as a noun, the word texture is the quality of something that can be decided by touch; the degree to which something is rough or smooth, or soft or hard.
This suggests that texture is very much a tactile experience. Yet texture is also visual. In the art world for example, a painter uses a surface feature like canvas and working with materials like paint or charcoal, adds form and depth to the creative image.
In knitting, texture adds depth to our knitting projects giving it form, a visual landscape of knit and purl stitches blending together and creating abstract or real images on a yarn fabric.
While this blending can be in the form of lace, cables, fair isle, instarsia and other knitting practices, I am more interested in the skilful manipulation of basic stitches.
Taking my inspiration from the Panda pattern, this means working with stitches based on knit and purl for texture.
The beauty of this way of knitting is twofold. It allows for individuality, a way of knitting that can be personalised to suit the lifestyle, personality and creativity of knitters.
Simply put, it becomes part of a knitter's story, a part of them that can be shaped via a garment like a cardigan or sweater, a baby blanket, a throw or a cushion.
I have added a textured section in my Stitch Library. So far, I have added two patterns.
 Rest assured there will be more.