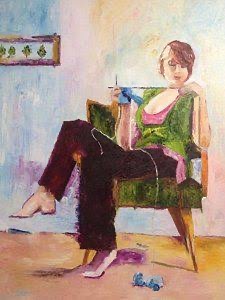 Despite many requests and discussion on social media, most of which is negative, it seems Ravelry is not interested in making necessary adjustments to their new website any time soon.
In doing so, Ravelry, for all its inclusiveness talk in the past, is failing the many designers and knitters who have sensory and neurological issues while accessing the new site.
To be quite honest, I really cannot see how this one will end. It does seem to me that Ravelry in its silence is shooting itself in the foot and doing immense harm to its brand. What this could mean in the long term is negating its viability as the go-to place online for designers, knitters, and associated craftspeople.
Certainly, there is a move away from using Ravelry from many crafters with designers actively looking for other online options for selling their patterns and  knitters choosing not to buy from Ravelry. 
All I can do is to be very clear about what I shall be doing.
I will keep my patterns on Ravelry for the present, but will, in the next few days take off the Ravelry link on my website. My trusty tech person, aka Grandad Pete, will be re-designing the 'shop' so all my patterns can be bought direct through me via PayPal.
In time, we shall set up a proper shop, but I feel I need to make a move now to counter the total mess Ravelry is currently making.
Linda xx