Hello everyone,
What are you doing today and what beckons you in the weekend?
Sage – an all-over cable stitch pattern, soon to be released
This morning I am re-visiting the written pattern for Sage. Sage is an all-over cable cardigan pattern for sizing 34 – 46 inch bust.
I had completed the writing up of the pattern but on reflection felt that the larger sizes needed to be re-figured to match the all-over cable pattern I am wanting to capture.
As the photo shows, my trusty pencil, rubber, and calculator are in prime position
The final written pattern is booked into my tech editor's schedule for late next week and the pattern should be available in a couple of weeks.
New lace design is coming up roses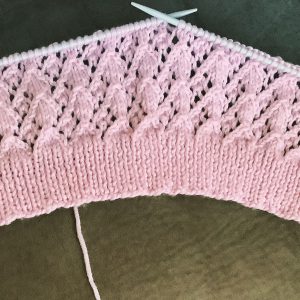 This afternoon is going to be a knitting afternoon. My new cardigan design is an all-over lace pattern knitted in the palest of pink using Touch Yarns 8ply merino.
I love the look of lace and, to be honest, it really is not that difficult. Yes, there are times when you  must concentrate on what you are doing but as you get used to the pattern, it does become easier.
This Diamond and Lace stitch pattern has an eight-row repeat and is really a mishmash of two lace patterns I like.
Ravelry and Mainly Cardigans patterns
Given the current issues with Ravelry I am committed to giving you access to my patterns outside of the Ravelry platform.
The best way to do this, at least in the short term while I investigate more permanent options, is to allow you to buy my patterns direct from my website using PayPal.
To this end, Grandad Pete and I will be this weekend adding all Mainly Cardigans published patterns onto the website.
You will still have the option to buy from Ravelry but, should you prefer to buy direct from me, you will be able to.
Have a fun Friday and a wonderful weekend.
Linda xx