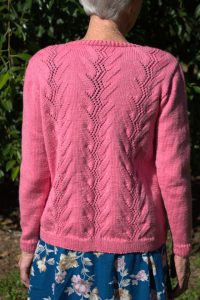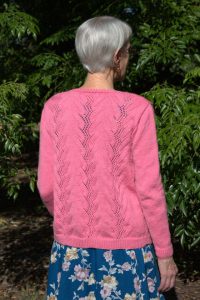 The combination of a delightful lace stitch pattern and stocking stitch defines this elegant cardigan.
This cardigan is knitted flat from the bottom up working the back, two fronts and sleeves separately. The two front bands are worked separately in k1, p1 rib. The neck band is worked by picking up stitches across both fronts and back, working 8 rows in k1, p1 rib stitch.
The cardigan is designed with one top button. Alternatively, buttonholes are included for those that want more buttons.
Yarn is Touch Yarns Pure Merino 8 ply. –