If you are interested in becoming a test knitter, please read on.
The main aim of having test knitters twofold:
To make sure the pattern is readable, clear and easy to follow.

To iron out potential problems/errors.
Your obligation
Keep me updated on any problems and/or mistakes as they appear so I can fix them asap.
Swatching: It is important that gauge is as close to the pattern gauge as possible.
Timeframe: This is open, to be discussed on an individual basis to fit in with you and your commitments.
It would be appreciated, but not obligatory, to post reviews on Ravelry.
My obligation
To provide clear patterns.
To provide support that is both prompt and courteous. 
To acknowledge you via my website and Ravelry page.
Current Opportunities
Test knitters for Irish Rose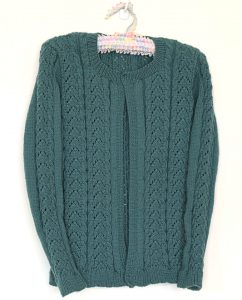 Irish Rose is an all-over lace and cable stitch cardigan.
 Test knitters are required in the following sizes:
34, 36, 38, 40, 42 inches [86.5, 91.5, 96.5, 101.5, 106.5]cm