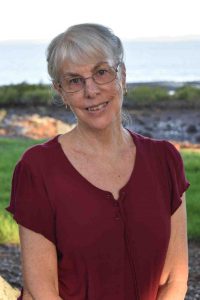 My name is Linda Cooper. I live in a Bayside suburb close to Brisbane, Australia where I combine my love of writing with designing and knitting.
My love of yarn and knitting began as a child. My Mum taught me to knit – a feat in itself with her being right-handed and me being a leftie. Ever resourceful, Mum sat opposite me as I learnt the intricacies, the ups and downs of being a leftie in a right-handed world.
I left knitting behind shortly after – too many other childhood things to do. In my late teen years, I started again and there is a photo somewhere of me with my then dark hair cascading down my back, resplendent in a light pink stocking stitch V-necked jersey. Yes, the finishing off could have been better, but it was finished and I was proud.
I was also hooked and have been a compulsive knitter ever since.
A love of writing stems from my passion for history and literature. My undergraduate degree was in history and I have always been drawn towards early to mid-20th century history – a time of great change and upheaval. In particular, I enjoy reading and researching women's lives and how they responded to what was going on around them.
I have always worked with books/literature. I also hold a MA in children's literature and, in a past life, have been a librarian, a children's bookshop owner and working in the publishing industry including being a freelance book editor specialising in historical fiction manuscripts.
There is a rich diversity in traditions and heritage across the knitter's world and in my work, I explore these traditions by focusing on the intersection between the stitches and colour used to create a design with the type of yarn used to produce the final garment.
In part, this reflects my own knitting heritage – a heritage steeped in UK/Irish influences but with a New Zealand/Australian twist. I have always loved the look and texture of cables and the use of traditional and modern Aran designs will always be a strong feature in my work. I also love creating designs using traditional stitch-work and, not surprisingly given my love of history, heritage knitting patterns of early to mid-20th century both fascinate and inspire me.
My aim as a designer is to create knitwear that inspires knitters to explore and express their creativity. The garment I enjoy designing the most is the humble cardigan. It lends itself to so many options – from the casual weekend cardigan over jeans or skirt/shorts to elegant evening or workday wear. Long or short, the cardigan, designed well, will look good on all body shapes and sizes.
Finally, the yarn I almost exclusively use is Merino – from the sheep of the same name that has, in so many ways, defined both New Zealand and Australia.