Hello everyone,
Cardigan designs always begin with a stitch pattern.
One stitch pattern that has always intrigued me is Peacock Tails. While there are a few versions of this available, the one that I like can be found in the Vogue Knitting Stitchionary Vol 2: Cables.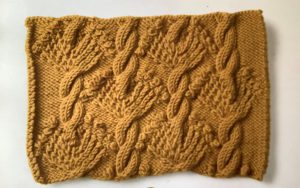 Initially, I thought it to be too busy and the swatch used in the book highlights this. Indeed, the stitch pattern seems to be squashed and, in my opinion, not at all enticing.
Yet, there was something about it that I loved.
With my designer hat on, I made a major change – I delete the bobbles and the pattern opened nicely. I also chose to make the stitch pattern stand out by using reverse stocking stitch.
In doing so, the stitch pattern takes centre stage, and the effect is just stunning.
While it looks complicated it isn't really – if you can knit, purl, use a cable needle, have experience in lace knitting and follow a pattern or a chart, you can knit this cardigan.
In short, this design is for the intermediate skill level knitter wanting to extend their skills as well as for the experienced skill knitter wanting to try something a bit different.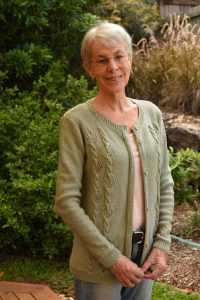 Naturally, this was always going to be a cardigan – although it would look stunning as a sweater/jumper.
In introducing the cardigan to my Mainly Cardigan Facebook group, I asked them to suggest a name for it. A member suggested Wheatsheaf – and that resonated with me.
Wheatsheaf pattern will be available in January.
Wishing you all a Merry Christmas.
Linda xx