Hello everyone,
For many of you, it is possibly a long time since you knitted your first cardigan. I am sure you still remember the yarn colour and ply, the pattern you used and how many times you frogged your work because of a mistake.
Yet, it was a milestone in your knitting journey.
For many others, the very thought of knitting a cardigan, let alone one with cables scares you half to death.
I am here to say if you can do the following, you can knit a cabled cardigan.
The three skills you absolutely need are: being able to read and follow a knitting pattern, able to knit and purl stitches with ease and to know how to increase and decrease stitches.
Other skills needed, but can be learned, are being able to pick up stitches, managing the set-in sleeve, being comfortable sewing up with mattress stitch and making buttonholes.
Tutorials for managing set-in sleeves and making buttonholes can be found at the following pages: Set-in Sleeves and A three-row vertical buttonhole.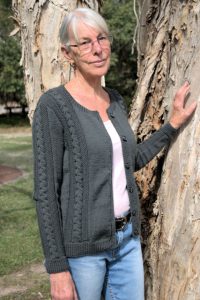 Charcoal Rose is the perfect beginner cabled cardigan. It is knitted flat from the bottom up working the back, two fronts and sleeves separately. The two front bands are then knitted and joined to each front using mattress stitch. The neck band is worked by picking up stitches across both fronts and back, working eight rows in rib stitch.
The cable for this cardigan is a very basic one – an 8-row pattern knitted in stocking stitch with one cable made on the 7th row and bordered by a simple moss stitch. You can find the pattern in the Stitch Library – Cable and Moss and I suggest you have a go at doing the pattern to become comfortable with it.

The back is knitted in stocking stitch and the fronts and sleeves have the cable 
Give it a go – I am sure you will enjoy the process and the cardigan when it is completed.
Charcoal Rose Cardigan pattern can be bought from my website, payhip or ravelry. The links are on the Charcoal Rose pattern page.
Linda xx