Hello everyone,
It is hard to believe that we are almost into the middle of November already. I think we can agree that 2020 has not been the best of years but I do think we need to take stock of how resilient we have been to everything that has been thrown at us this year.
The main news is a new cardigan pattern will be released at the end of this month. I am loving the mix of cable and lace, and while it does look 'hard', it really is not, and I think you will be surprised just how it knits up.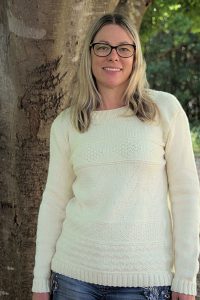 A jersey/sweater version of Oatmeal cardigan is now available. This was knitted by Anne, my lovely test-knitter. Her knitting is amazing, and I am looking forward to working with her in the future. Zoe, my beautiful daughter, is the model for Oatmeal Jersey/Sweater.
This year has been the year of KALs. Mainly Cardigans has hosted two and although the second has officially ended, all the knitters involved want to carry on with our zoom meetings once a week. While the first KAL, was knitting a Mainly Cardigans pattern, the second one we just had fun. Lots of talk, knitting, sharing knitting tips and much, much more.
Certainly, not the norm in KALs but, in these times of lockdown and restrictions, it has been a welcome part of our week.
I am planning next years KALs – knitters have expressed interest in a children's cardigan KAL and knitting a top-down jersey/sweater or cardigan. I would love to hear your ideas for other KALs.
In the next couple of weeks, I am holding a masterclass in knitting a hat in the round and other classes will be added next year. If you are interested, please let me know.
This year I have added a shop to my website where you can purchase the patterns. They are also available on PayHip and in my Ravelry store.
Finally, if you have not done so already, please come and join us in the Mainly Cardigans Facebook group. It is a private group where we share our knitting, talk knitting, and just have fun. You would be very welcomed.
Linda xx