Hello everyone,
I have long been an advocate of knitting in 8 ply yarn.
It is such a versatile yarn – not too thick but thick enough to knit beautiful stitch patterns like lace, cable, and textured cardigans.
Indeed, I have almost exclusively used 8 ply yarn since I seriously began knitting garments in my late teenage years. Using 100% wool has been my mainstay, and, in the last few years, it has been 100% merino from Touch Yarns, a New Zealand yarn company.
As many of you already know, lately I have been interested in the twinset. In the weekend, I went down the google rabbit hole and spent a lovely time looking at patterns and photos of twinsets designed and knitted in the decades between 1930 -1960.
I found it fascinating for many reasons – not just for the different styles and stitch patterns but also the realisation that in those decades, designers made available limited sizes available for knitters to knit – in many, the largest size was either 36 or 38 inch bust.
Given there is two garments that make up a twinset, it is not surprising that 8 ply yarns are too bulky, and it is here that 4 ply yarn comes into its own.
Currently, I am in the middle of knitting a short-sleeve twinset jumper that I have designed. I am really liking knitting with Bendigo Woollen Mills 4 ply Luxury yarn in this delicious colour, Ocean Blue.
In this twinset, the jumper is knitted in the old Feather and Fan lace stitch and the long-sleeve cardigan will be stocking stitch with a panel of Feather and Fan.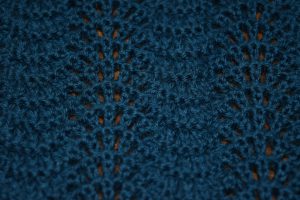 Knitting with 4ply is so different than the thicker 8 ply. Certainly, your work does not 'grow' as quickly, and I am guessing that may be a problem for some knitters. Yet, what I am finding is that I am enjoying my knitting so much more – watching the pattern emerge slowly and funnily enough really liking using smaller needles.
I am a convert.
Linda xx