In my last post I introduced a new yarn: 100% NZ merino by Touch Yarn from Otago, New Zealand.
Since then, my samples of this yarn have been swatched, knitted up numerous times and, using different sized needles, have been stretched, ripped back, knitted up again, washed and blocked. In short, the yarn has been put thoroughly through its paces.
It is delightful.
So much so, I have decided to use Touch Yarn merino in a new collection of cardigans and today, a big parcel arrived from NZ.  I now have five wonderful colours to work with (and there are plenty more to choose from should I decide to make the collection larger).
The central theme of this collection will be diamonds – from small to large, from half-diamonds to full diamonds and using such patterns as lace and cables. I also want to explore the interplay between knit and purl stitches to create texture in the form of diamonds.
To give you a sneak preview of what I am thinking of here are a few of the sample ideas I am playing with.
The first one is a mock cable stitch with a moss insert.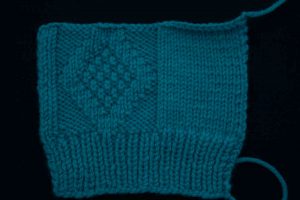 The second is the diamond and lace cream swatch featured in the last post.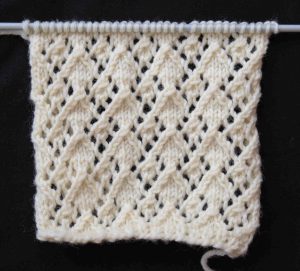 The third is a cable which will form the basis of an overall pattern yet to be decided. This swatch is not knitted in Touch Yarn. It is an old pattern that I want to re-vamp.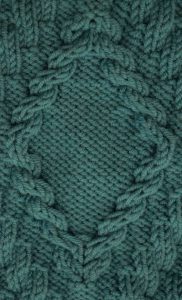 The fourth is technically not a diamond but an acorn – but I love it and so it has been upgraded to diamond status.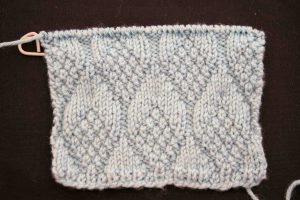 The fifth featured in an earlier collection but will have a new overall look.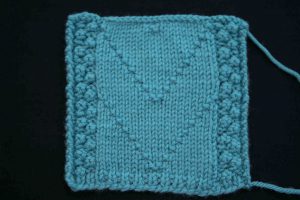 It is time to get busy.