Did you know scarves have been worn since ancient times?
I certainly didn't.
According to Wikipedia, the 9th century BC Statue of Ashurnasirpal 11 is wearing a shawl and, in Ancient Rome, men wore what was known as a Focale to wipe sweat from their faces during hot summers. In the reign of Emperor Cheng, cloth scarves were used as an identification of warrior rank while in 17th century Croatia, all military ranks used scarves – silk for officers and cotton for others.
Fast forward to the 19th and 20th centuries and scarves had become common place as a fashion accessory as well as a necessity for those living in cold climates.
Scarves come in many fabrics but I am interested in the scarf made from yarn.
I cannot remember the last time I knitted a scarf but my interest in them resurfaced when I decided to knit a scarf for a friend who lives in the US state of New Hampshire. The perfect Christmas present for someone special who experiences extremely cold winters.
Choosing the yarn was easy. Her favourite colour is egg-yolk yellow and I found a lovely DK 100% Australian wool yarn.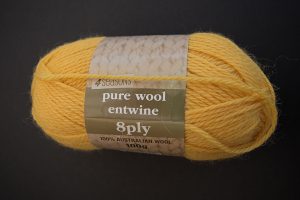 What pattern to use was a different story.
After scrolling through scarf patterns on Ravelry and images of scarves on Pinterest and elsewhere, I decided enough was enough – I would use my own pattern.
 In my current WIP cardigan design I am using a Cable and Lace pattern. This simple yet elegant pattern I thought would work well as a scarf if I included a moss stitch panel in the centre and at each side of the work.
The jury is still out if I continue the pattern for the length of the scarf or if
I introduce another stitch/pattern for the large middle portion of the scarf. When I asked knitters in a couple of Facebook knitting groups, I belong to what they thought, the answers were decidedly mixed between the two options.
While I certainly do appreciate their thoughtful and helpful suggestions (they are all so supportive), at the end of the day, the decision is mine.
When I started this pattern, I thought I would complete ten pattern repeats before making a decision.
Now this may smack of procrastination but I prefer to look at it as a desire to do the colour and yarn justice. I am also mindful of my friend and what she would love to wear.
Whatever I decide, the pattern when finished will be made available via Ravelry along with the hat to match.