It is winter here in Queensland, Australia.
Not that you would think so on some days. Glorious no-cloud, full warm sun and me wearing jeans, tee-shirt and bare feet.
I love our winter. I pretend it is summer and enjoy being able to get outside and do things without collapsing with heatstroke, copious drips of sweat dribbling down my face or being forced to stay inside all day with aircon on.
Yes, I hate our hot, hot summers.
 When I started my blog last year, I wrote that as a Kiwi living in Australia, I struggled with the idea of place. Indeed, in my very first post I wrote 'the sunburnt country I now inhabit has its own beauty but on the whole, it does not enthral or capture my imagination or sense of place'.
I have, it seems, changed my mind.
I am very happy to live in the bayside suburb of Redlands. It is comfortable. The water is close by, there are lovely walks to go on and explore, clubs to join, like the book club I go to and Brisbane is not too far away nor is the Gold Coast, where our daughter and her family live.
I am quite content, even if I do hate the summer heat.
In that earlier post I also wrote of how Scottish designer Kate Davies got me thinking of how our lived environment can act as an inspiration for our knitting (what we knit, how we knit, why we knit and the colours we use).
Kate's inspiration, I wrote, can be seen in the warmth of her designs, the Scottish sheep and the wool they produce to create those designs. These reflect her unabashed love of history and the built and natural environment where she lives and works.
Given my newfound contentment with where I am living, connecting the dots between how this inspires me and the influence it has on my knitting and design becomes clear.
Design and knitting have become more than just a job – it is a lifestyle choice, and this reflects the slow pace of where I live and how I spend my days.
My latest design I am calling Redland Rose. It is the last of the 'Rose' collection and is therefore, special.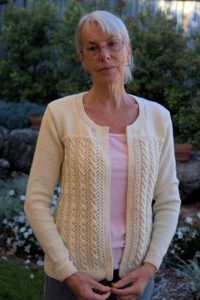 Knitted in New Zealand's Touch Yarn 100% merino wool, it is a call to my kiwi heritage and, by choosing the colour Natural White, it reflects for me, both Australian and NZ gorgeous sandy beaches.
The lace and cable pattern are a blend of old and new for me as a knitter. Cables I have always loved knitting, with lace being a recent addition to my skills.
The design too, is a throw-back to the past, a time of elegance and when garments fitted the body gracing the feminine form.
I knew I had achieved my goal when I posted a photo of the finished cardigan in the Australian knitting group on Facebook and one lovely lady wrote 'I love how you blend the old with the new'. 
Redland Rose will be available on Ravelry in the next few weeks.