One of the most enjoyable tasks a knitter or a designer can have in this knitting lark, is the time spent choosing a pattern stitch. We can happily get engrossed in our search for the perfect stitch pattern whether that is exploring social media sites and stitch libraries online or printed books and magazines. 
The Harmony Guide to Knitting Stitches series is one I often refer to when looking for stitch inspiration. It is where I found the lace stitch Creeping Vines.
I liked the look of this stitch pattern and quickly knitted up a small swatch.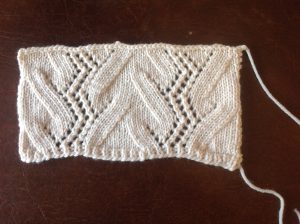 I liked it even more.
So, the question became, what could I do with this; how can I incorporate the pattern into a cardigan pattern?
Initially, I thought two pattern repeats with remaining stitches being in stocking stitch. From that emerged an all-over pattern repeat.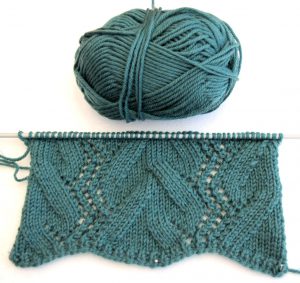 Still thinking about it, I put it aside for a while as I finished and published other designs.
Coming back to it in October, I realised I wanted to combine an almost all-over design for the back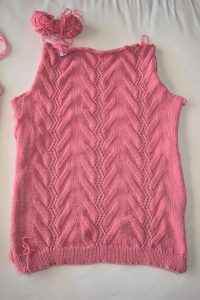 with a minimalist one pattern repeat in the fronts and the sleeves.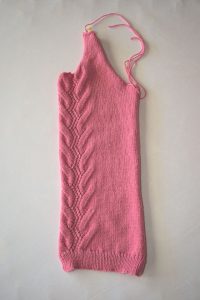 At time of writing, I am happy with the results.
This design is knitted with Touch Yarn's 8 ply 100% merino in Coral colourway. The cardigan features a scoop neckline and set-in sleeves. It will be available on Ravelry in December.
In the meantime…
If you would love to test-knit this design, please contact me.
If you would like to explore how you can incorporate Creeping Vines in your knitting patterns, I have included the written pattern for Creeping Vines in my stitch library.
And finally, do make a comment whether you like the stitch pattern or not. If you do, I would love to hear how you think you would use it in your knitting projects.