I am very happy to announce that my new design, Lovely in Lace has been published.
This design features a delightful lace stitch pattern called Creeping Vines, the instructions for which are in the lace section of my stitch library, which is bordered in the fronts and back with stocking stitch. The sleeves are knitted in stocking stitch.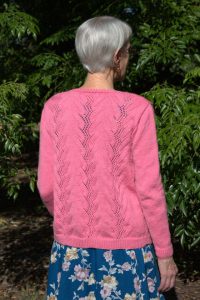 Knitted bottom-up, Lovely in Lace also features a k1, p1, ribbing band and set-in sleeves.
The cardigan has a 2-inch (5.5 cm) ease in the back and front and a 1 ½ inch (4.5cm) in the sleeves giving an elegant and fitted look to the finished garment.
In a blog post in January of this year I mentioned that new patterns from Mainly Cardigans will be made available via the Mainly Cardigan shop on the website.
I also said that I would no longer be publishing patterns offering all sizes on the one pattern. Taking a leaf out of sewing patterns, instead I was going to move towards splitting patterns into sizes.
The sizes in the interim will be:
First size:       34, 36, 38 & 40 inch bust (86.5, 91,5, 96.5 & 101.5 cm)
Second Size:  40, 42, 44 & 46 inch bust (101.5, 106.5, 112.5 & 117.5 cm)
Larger sizes will be added if there is a strong demand from you, the knitter.
Lovely in Lace is the first to have this format.
The first size is now available on Ravelry.
Larger sizes will only be available via the shop on Mainly Cardigans and there will be a link to this on Ravelry. 
My reasoning for adopting this new format is simple. I want to give the knitters who support my designs the opportunity to have a sense of community and support from both myself and other knitters.
To help this along, each pattern on Mainly Cardigans will have its own designated help, tutorial and errata page and I will be available via email to offer personal help.
My Facebook page @Mainlycardigans will also feature in this new format offering a space for knitters and myself to talk about knitting experiences, answering questions, showing new stitches to try and even life itself.
I would love some feedback and suggestions on these changes.
In the meantime, enjoy Lovely in Lace.
Love
Linda xx