I am being good in these times of Coronavirus, lockdown and social distancing. I am for the most part, staying at home, only escaping to do a grocery run (but, to be honest, Grandad Pete does most of this essential chore) and going for my daily walk around the neighbourhood.
Yesterday, on my walk, there were many families out and about. Kids on bikes, Mum and Dad walking behind, the dog trotting beside them. It was lovely to see.
I suspect, with all this lockdown, by late afternoon, parents and children are going stir-crazy and just need to get out of the house – the kids to use up pent-up energy and the parents and the dog…well, just because.
In case you are worried, yes, we kept to the social distancing guidelines while at the same time, smiled and said hello as we passed each other.
My knitting life came to almost a standstill this past week. I had a skin cancer removed from the back of my hand and was told not to knit for at least five days. I lasted three before I sat down and did three rows of the latest design.
Yesterday I did eight rows and had no pain so reckon I am on the mend.
Skin cancer aside, I am sad that I will not get to see my elder daughter anytime soon. It is her 44th birthday today.  Sad too that Grandad Pete and I will not see Jackson and Manaia, our Aussie grandsons for a while because of lockdown.
As for the other grandchildren in NZ and Northern Ireland, well, who knows when we will get to see them.
For my current design, I have gone cables – not just a cable here and there but total cables. I am enjoying this design. I am making it longer than my normal cardigan lengths as I think it will look awesome at a longer length. It will also have set-in sleeves, but the jury is out to whether it will be scoop or V-neck.
At this stage, the V-neck is winning but we will see.
One of the cables is called Bunched Cable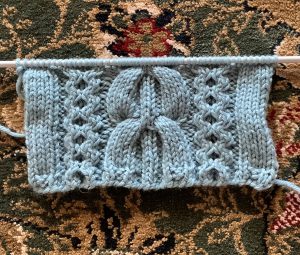 and I quite like it. You will find the instructions for this cable in my stitch library.
Anyway, I kept looking at it and wondered how I could change it – and so far, have come up with two other versions – Bunched Cable (version 2)
 and Elongated Bunched Cable,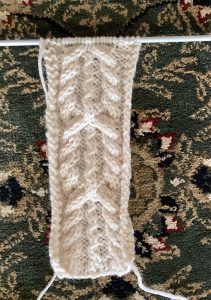 all of which are in the stitch library.
One of the reasons for making changes to a stitch pattern is to help you to become more adventurous in your knitting. To look at something, be it a cable, fair isle, lace or any of the stitch patterns available to us knitters and experiment. In short, to tap into your imagination and creativity and come up with something uniquely yours.
In these times of lockdown, imagination and creativity are two things we all need.
Linda xx