I am almost embarrassed to admit I started working on the Irish Rose design well over 18 months ago. Indeed, I first wrote a blog about it in October 2018 Baby steps into lace knitting in which I waxed lyrical in enjoying baby steps into lace knitting.
In the interim months, I did finish the cardigan design and had written up the first size and worked out the remainder sizes.
Then, nothing happened.
Well, that is not solely true. Of course, things happened – I went onto other designs and released them onto Ravelry.
What I mean is: nothing happened with Irish Rose.
Fast forward to April 2020 and I finally decided to get this design finished.
The stupid thing about it all is I really love this design. The combination of lace and cables work so well together, and the final garment is striking to look at.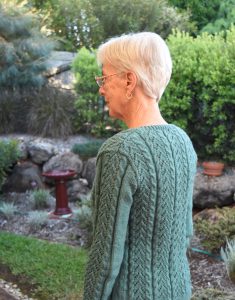 Like most of my other designs, Irish Rose is a fitted cardigan featuring a scooped neck and set-in sleeves. Knitted flat from the bottom up, the cardigan works the back, two fronts and sleeves separately.
The two front bands are knitted and joint to each front using mattress stitch and the neck band is worked by picking up stitches across both fronts and back neck and knitting eight rows in k1, p1 rib stitch.
Six buttons complete the cardigan and the yarn used is 100% NZ merino.
Irish Rose will be available on Ravelry next week.
Linda xx