I am excited to announce the first ever Mainly Cardigans KAL.
Sadly, for international readers of my blog, this KAL is open to Australian knitters only. Do not fret though, further KALs are being planned that will include you.
If you are interested, then read on.
The KAL will officially begin on July 1st and end September 2nd (although this is flexible) 2020.
Cardigans to choose from
For the experienced knitter who wants to just enjoy the experience or an intermediate skilled knitter wanting to extend their skills, I have chosen Irish Rose cardigan. This cardigan is an all-over lace and cable design.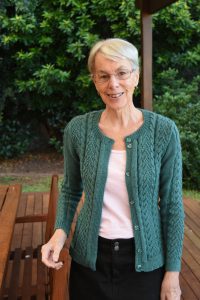 For the intermediate or beginner knitter wanting to extend their skills in a supportive environment, I have chosen Charcoal Rose cardigan. This cardigan is a stocking stitch pattern with a simple moss stitch and cable pattern on the front and sleeves.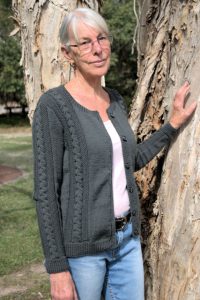 Sizes
34, 36, 38, 40, 42, 44, 46 inch bust [86.5, 91.5, 96.5, 101.5, 106.5, 112, 117 cm]
Yarn required for both cardigans
12, 13, 14, 15, 16, 17, 18 [Touch Yarn 100% Merino 50gm balls]
Please add to this one more skein for swatching and seaming.
Needles and notions
1 pair 3.75mm needles
1 pair 4mm needles
6 buttons (optional)
Wool needle for sewing seams
Packages to choose from
Mainly Cardigans Kit
I was considering offering a kit using Touch Yarn 100% Merino, a New Zealand yarn from Otago in the South Island.  It is a luxury yarn and yes, more expensive. However, given the COVID-19 issue, I am not 100% confident that the mail service between Australia and NZ and as well as the domestic Australia Mail service will be running on time so have put this option on hold for the time-being.
Charcoal Rose and Irish Rose have been both knitted using Touch Yarns
Pattern only and you choose/buy yarn
All patterns: Please purchase the pattern(s) from my Ravelry Store
Substitute yarns for Touch Yarn 100% merino
I have been on YarnSub and the best Australian yarn compatible with Touch Yarn (96%) are:
Bendigo Luxury 8ply
Cleckheaton Country 8ply
You may like to order your yarn via either of these two suppliers. 
Note: You can use yarn from your stash if you would prefer, however, I cannot stress it enough how important it is that your swatch gauge is very close to that shown on the pattern.
How it all works
Weekly meet-up via Zoom with a day and a night meeting to hopefully accommodate all members. You can of course come to both if you so wish.
Wine optional!
At our weekly meetings we check-in with each other and talk about progress and fix any problems with the knit. Most of all, share stories, have a laugh and enjoy each other's company.
Group photos, extra help and friendly chats will be via Mainly Cardigans Facebook Group
I will also be available for those wanting one-on-one help.
KAL Tutorials
Swatching
Decreasing/increasing at armholes/neck
Set-in sleeves
Button and neck bands
Buttonholes
Seaming
To Register
Email me at [email protected] to book your place and payment details for the pattern.
Looking forward to meeting you all and enjoying our knitting experiences.
Linda xx