I have been re-reading Jill Ker Conway memoir trilogy: The Road to Coorain (1989), True North (1995) and A Women's Education (2001). For those who do not have the foggiest notion of who she is, let me give you a short overview.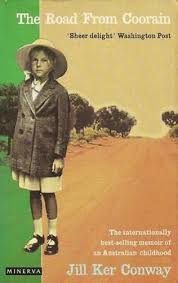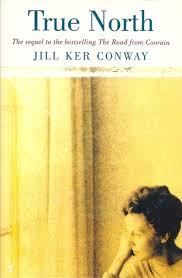 Jill Ker spent her childhood on an outback (read: isolated) farm in NSW, Australia. It was an unusual upbringing with both parents suffering from mental issues – the father from war experiences, the mother from being constrained by her gender. Her two brothers escaped by going to boarding school, but Jill was educated at home and became her father's 'right-hand man' in the running of the farm. After her father and older brother died, Jill and her mother moved to Sydney, where Jill first went to a private school, then on to the University of Sydney where she read history.
Constrained by her mother's mental health issues as well as the 1950's ideal of womanhood (marriage, children and a lifetime of domesticity), she escaped by enrolling in the PhD program at Harvard. There she blossomed – personally and intellectually, and found love in the shape of John Conway, a fellow academic. Moving to Canada where they both held academic positions, Jill's academic life became a public one when she became the first female vice-president of the University of Toronto. Ten years later she was appointed president of Smith College, a women's only college in Northampton, Massachusetts, a position she held for a decade.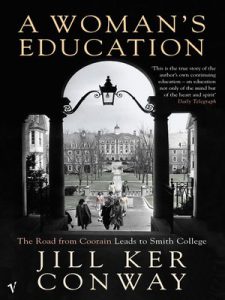 While the memoir is at times intensely personal (the emotional and physical struggles of mental illness of her mother and husband are confronting reading), it is also the story of one woman's journey in the search of self and self-determination at a time in history when women's traditional public and private lives were being questioned. In short, the underlying message throughout is a call to action.
In a nutshell, her philosophy (and call to action) is to thine own self be true. Towards the end of the third book, A Woman's Education, when she had retired from Smith College and was thinking about her future, she writes:
'It seemed clear that I would just have to invent my own role and pattern of life, and live it outside the comfortable boundaries of one particular institution.' (p 140)
While the institution here is the university/academic one I am choosing to place this word 'institution' and its corresponding 'comfortable boundaries' firmly in a wider context. The question to be asked is how many of us draw a line in the sand and do this and, equally as important, how many of us don't and never ask why not?
At stake, I believe, is the meaning of self and living a life that resonates and aligns with core beliefs, strengths, motivation and a desire to be just you. And, these my friends, are as relevant today as they were then.